Dave Perkins was diagnosed with Stage IV non-hodgkins t-cell lymphoma. After at least 3 years of medically prescribed drugs and a bone marrow transplant, doctors informed Dave that he was terminal.
"Beta Glucan Topped My List of Supplements to Continue," Perkins stated, "Beta glucan was the product that I knew was essential to keeping the cancer "at bay" with its ability to optimize my immune system."
In Loving Memory: 11/19/40 – 9/27/2007
***
A Poem
"An Angel Arrives for the Devils"
March, 2009
A decade ago, a photographer in one of nature's sacred places,
Spots devils out and about – but they have strange growths on their faces.
The diagnosis arrives – a rare & aggressive form of cancer –
Take it away, dash away –Dancer, Dasher & Prancer!
Tumors so large, that it blocks nose, mouth and ears.
How many thousands must pass –how many tears?
And even the devil Cedric – strong antibody response, please –
Has suddenly taken a bad turn with the disease.
But what might happen, when Science and Faith combine?
Behold! – A cure emerges & the sun appears to shine.
From wrack and ruin are healed the devils' frail bod,
Thank you, Francis Collins, it's The Language of God.
The cure is available now – the neutraceuticals are ready.
But we must pass through the door – with our Faith truly steady.
Keep an open mind and open your heart, Mate-
Hop on your 'roo, because the hour is so late!
From a Sister so dear , from an Angel imparting the knowing-
From Krishna above, whose tender grace keeps flowing –
From the yoga limb so clear , the yama called ahimsa,
Non-violence and love to all the devils in Tasmania!
paul
***
THE SPIRITUAL –
From the book: "A Junebug Recipe: The Secret Ingredients For What's Been
Ailing You…A True Story"
"But Rod was right about one thing. There is another dimension out there…A dimension of light and love, of laughter and prayer, of friendship outlasting all the stars in heaven, of Angels and Spirit Guides, of horses and God's other critters, of courage beyond the scope of human endurance. Four years of stage 4 colon cancer couldn't overcome these…who is the victor and who is the vanquished? What happens when God's Divine hand reaches out to touch an Angel on earth? What happens when Science, Spirituality , and my Sister Junie meet head on…there's a signpost up ahead – your next stop: THE JUNEBUG RECIPE !!!" – page 9
***
"Angel Ariel says: If it is important that you…be used…in service to the divine, you will be filled with everything you need to carry out the tasks… When your soul opens to our gift, not only do we imprint knowing into your mind, we also imprint love into your heart. And with the feeling of love that we imprint on your heart, there can be no mistake." –
From the book INTERVIEW  with an ANGEL By Stevan J. Thayer & Linda Sue Nathanson
***
YOGA PRAYER:
" Place your burden
at the feet of the Lord of the Universe
who accomplishes everything.
Remain all the time steadfast in the heart,
in the Transcendental Absolute.
God knows the past, present, and future.
He will determine the future for you and
Accomplish the work.
What is to be done will be done at the
proper time. Don't worry.
Abide in the heart and surrender your acts to
The Divine.
…Ramana Maharshi
***
FRANCIS S. COLLINS, MD., PhD, Leader of the Human Genome Project
"…Seekers, there are answers to these questions. There is joy and peace to be found in the harmony of God's creation…My prayer for our hurting world is that we would together, with love, understanding, and compassion, seek and find that kind of wisdom. It is time to call a truce in the escalating war between science and spirit…So let us together seek to reclaim the solid ground of an intellectually and spiritually satisfying synthesis of all great truths. That ancient motherland of reason and worship was never in danger of crumbling. It never will be. It beckons all sincere seekers of truth to come and take up residence there. Answer that call. Abandon the battlements. Our hopes, joys, and the future of our world depend on it."
– from A Scientist Presents Evidence For Belief, The Language of God
***
"As steps in man's awakening, the Lord inspires scientists to discover, at the right time and place, the secrets of His creation."
–Page 318
Autobiography of a Yogi by Paramahansa Yogananda
Copyright 1998-Self-Realization Fellowship
***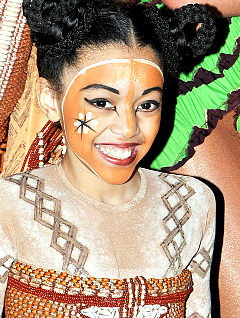 Shannon Tavarez, "Young Nala" of the Broadway show, "The Lion King" passed away from  acute myeloid leukemia on November 1, 2010. She was also, a poet- "Just one swab does the job!" urging people  to register with DKMS, the world's largest bone marrow donor center.
In Loving Memory to Shannon – A Poem
I saw her on TV -her bald head  wrapped in a bandana
Her name was Shannon Tavarez-the animals called her "Young Nala".
A queen among  "Lion Kings", amid the din of  their roar,
To the Heavens and Angels above, her sweet voice would soar.
As she lay in her hospital bed, I saw her eyes twinkle
I knew her extraordinary life possessed a rare wrinkle.
Amid the tubes and the transplant, she gave the world the biggest smile-
I knew she was a rare gift from above – even if we had her such a short while.
I wish I had done more –
Some day very soon, oh cancer, we'll even the score.
But for now, Young Nala is horseback riding with my sister Junie…
Laughing and joking – both a little looney.
So much love that they left us – both Junie & Shannon,
Together, forever -Young Nala anon.
Paul – 11/4/2010
***
In Memoriam:
Courageous Jessica Joy Rees, Age 12
After a 10 month fight with 2 inoperable brain tumors –"My wish is that every kid fighting cancer is personally encouraged to NEGU!" (Never Ever Give Up)
-Jessie Rees
***
"…We share the vision of our founder and creator, Alexandra "Alex" Scott- a cure for all children with cancer"… Alex's Lemonade Stand Foundation
***
From the book PROOF OF HEAVEN by Eben Alexander, MD:
"You are loved and cherished.
You have nothing to fear.
There is nothing you can do wrong …
… It is my belief that we are now facing a crucial time in our existence.  We need to recover more of that larger knowledge while living here on earth, while our brains…are fully functioning. Science – the science  to which I've devoted so much of my life – doesn't contradict what I learned up there. But far, far too many people believe it does, because certain members of the scientific community, who are pledged to the materialistic worldview, have insisted again and again that science and spirituality cannot coexist…
…I had further dreams some of them extremely long and involved.  In the longest, most intense, and almost ridiculously detailed of these, I found myself in a South Florida cancer clinic…
…The further I dug, the more convinced I became that my discovery wasn't just interesting or dramatic.  It was scientific…
…So here I am. I'm still a scientist, I'm still a doctor, and as such I have Two essential duties: to honor truth and to help heal…"
***
"He pulled Essayenya even closer and held her tight…
'At the end of these four cycles of time, the Earth will be ready to return to a fifth-dimensional vibration. Then you and the other souls who come with you will be ready to fulfill your individual destinies.  It is then that the soul attributes and abilities that have been with you through all time will be triggered to come forth.  It is then that you and many others like you will be called into service, for God and for the Earth. Together, you will all help the Earth and the people of the Earth to move forward to this new time; a new light will shine upon the Earth…Throughout this long time that is to come, I will send beings of light to watch over you.  You will never be truly alone and, when the time is right, I will come to Earth to find you…
Blessings and love to you all. Matea,Matea, Matea. Be at peace and know that all is well.  '  "
– from SUNSHINE  Before the DAWN by Judy Satori
***
Nature first issue
Nov. 4, 1869
A WEEKLY ILLUSTRATED JOURNAL OF SCIENCE
"To the solid ground
Of Nature trusts the mind which builds for aye." — WORDSWORTH
P.S.  The Search for The Holy Grail – And Why not a poet (with the help of dedicated, loving fellow researchers) …………………… .To expose it ?
Submitted with love,
Paul
Author, poet, yogi, , Father of 3 Valedictorians including a PhD in neurobiology from Harvard University,  brother to a wonderful Sister & cancer researcher
Conflict of Interest:
The author declares no conflict of interest.
***
From the Ganga Prem Hospice in Rishikesh, India:
"What you would do tomorrow, do today –what you'd do today, do now."
-Kabir